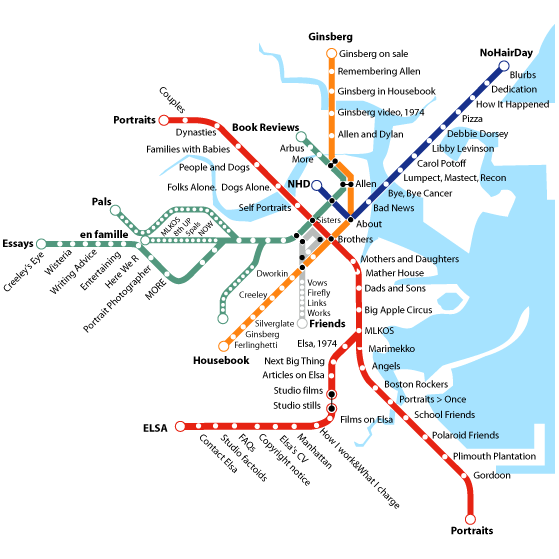 Elsa Dorfman passed away on May 30, 2020, at her home in Cambridge, MA. Personal inquiries may be sent to Elsa's husband, Harvey Silverglate, at Harvey@HarveySilverglate.com.
A memorial program was held at Boston's Museum of Fine Arts: Elsa Dorfman's Memorial Program.
In 2021, Elsa Dorfman's professional archive became part of the photography collections of the MIT Museum, Cambridge, MA. Research and reproduction inquiries should be directed to the reference address on the MIT Museum Collections website.
=======
As of January 2019, Elsa Dorfman is no longer taking portraits. Her website has been preserved as is, not only for historical purposes but also so that the public can continue to enjoy it. Please note that this website contains outdated information.
=======
You've found Elsa Dorfman, Portrait Photographer. My website is my obsession. In 1995, Brian LaMacchia encouraged me to start putting together a website which I called Elsa's Cyberjournal. His friend Philip Greenspun set me up w/ his own sites at MIT(CSAIL department) and later at his legendary site photo.net. I was hooked.
Here is a map that Andrew Grumet and I came up with in 2002, inspired by the Massachusetts Bay Transportation Authority subway map which was designed in 1965-1967 by Tom Geismar when he was a partner at Chermayeff and Geismar in Cambridge at Putnam Circle, a few blocks from my house. Geismar's map for the Boston T was the first subway map in the US that used color for the different subway lines. That idea was borrowed from subway maps in European cities. The 1960's design overhaul of the Boston subway system included everything: the cars, the hanging straps, even the turnstiles. Working on this site map converted me into a wild fan of urban subway maps and their subculture!
Browse on the different subway lines to yr heart's content. The present iteration of the site is designed by Ben Fenton and me.
You can get more literal help from my conventional site directory in text format. All your questions about me and my work will be answered. And you will be much amused.
You can search this site!! I have a Google directory on the entire website so you shld be able to find just abt anything that is here. .
What's Happening
Yes, there still is a limited amount of film left. The team at 20×24 Studio works diligently to keep it available.
The fourth edition of Elsa's Housebook was released in 2017. It is available for purchase at Harvard Book Store, where it is printed on the store's book-making robot Paige M. Gutenborg.
I was recently featured on wired.com
There is film for the 20x24s. There is film. There is film. It's a miracle.
I was recently featured in Harvard Magazine and the Boston Globe
I was the subject of Errol Morris's 2016 film 'The B-Side.' The New York Times reviewed the film.
Randy Kennedy's article in NYT.
Jared Bowen featured me on Open Studio. This 26-minute video has 3-4 segments and I appear around the 7-minute mark.
Time moves on and so what's new is now history! Maybe something you're looking for is in the archive I can't bear to throw anything away. The archive is a collection of most of my What's New bits?
How To Find Elsa
E-mail: elsad@comcast.net
Framing studio: 607 Franklin St. Cambridge, MA 02139; (617)876-6416
Portrait studio: 955 Mass. Ave.,#LL, Cambridge, MA 02138; (617)876-6416
The Most Basic Info about Elsa
Reader Favorites